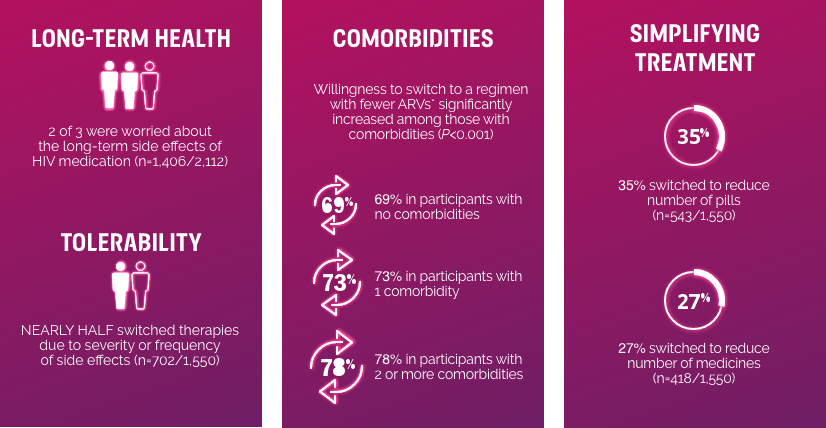 In the Positive Perspectives study, participants self-rated their overall health, treatment satisfaction and virological control. Current and past treatments were not reported. The study expanded from 2,112 participants in 24 countries to 2.389 participants in 25 countries following the first publication. Among the 2,112 original participants, 1,550 had ever switched ART since starting treatment.[1,2]
*Willingness to switch was predicated on the understanding that they would remain virologically suppressed.[2]
IS POLYPHARMACY* LINKED TO POORER HEALTH OUTCOMES?
People With Polypharmacy Report Significantly Poorer Health Outcomes Compared With Those Without Polypharmacy, Independent of Existing Comorbidities (N=2,112)[2]
*Polypharmacy was defined as taking 5 or more pills per day for HIV or non-HIV conditions, or taking medicines currently for 5 or more conditions, including HIV. All differences between people with a report of polypharmacy compared with those not reporting polypharmacy were significant at P<0.05.[2]
PLHIV REPORTED SIGNIFICANT IMPROVEMENTS IN TREATMENT SATISFACTION AFTER SWITCHING TO DOVATO
Greater Patient Satisfaction with Dovato vs. Continued Current Regimens
Top Five Factors Driving Improvements vs. Baseline Through 48 Weeks[3]
Improvements vs baseline also seen across all other factors measured, including convenience, flexibility, satisfaction with treatment demands and satisfaction with current treatment*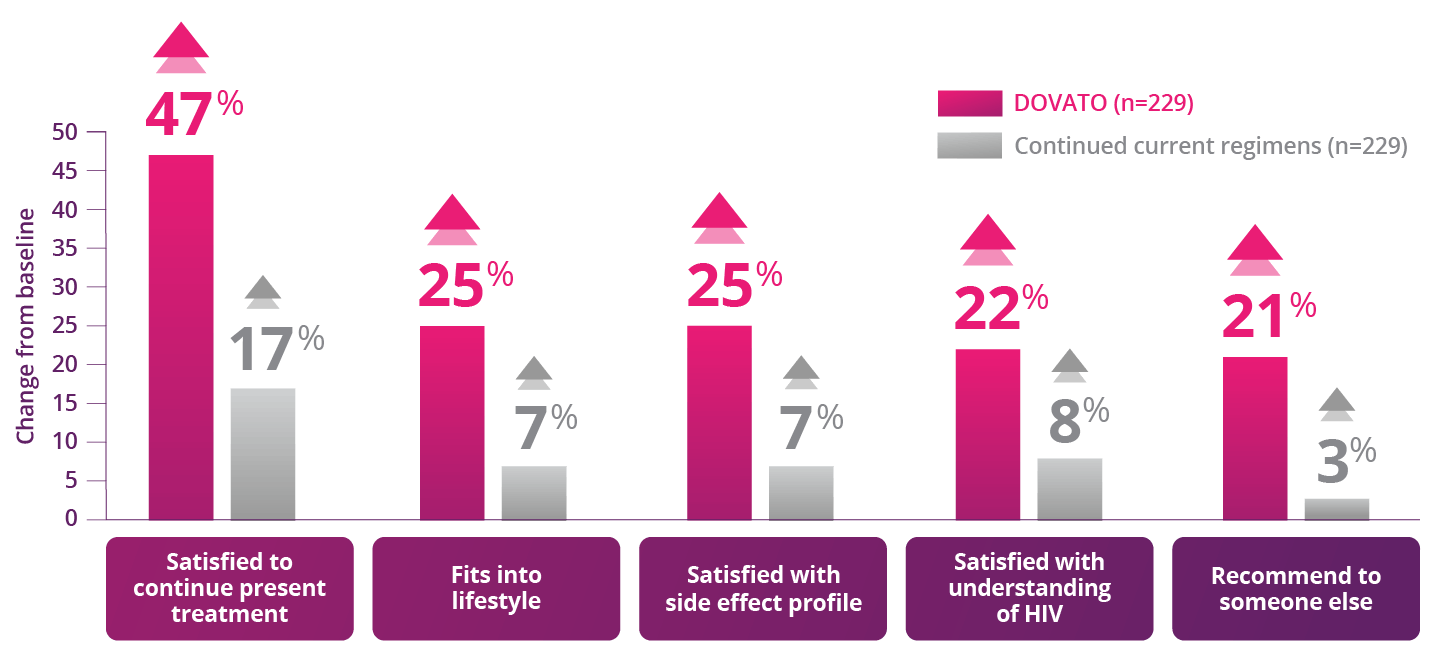 Patient-reported outcomes were assessed using the HIV Treatment Satisfaction Questionnaire, stats version and the symptom distress module at baseline and Weeks 24 and 48. Percentages reflect the percentage change from baseline in proportion of participants with a 6 out of 6 score for each treatment satisfaction individual item through Week 48 where 0=very dissatisfied, poorly controlled, inconvenient and inflexible; 3=neutral response; and 6=very satisfied, convenient and flexible.
*Improvements vs continued current regimens in 9 of 10 factors, and the same improvement with continued current regimens in 1 of 10.
Want to hear from the experts, including past webinar recordings?
October 2022 PM-GB-DLL-WCNT-220006
Adverse events should be reported. Reporting forms and information can be found at www.mhra.gov.uk/yellowcard or search for MHRA Yellowcard in the Google Play or Apple App store. Adverse events should also be reported to GlaxoSmithKline on 0800 221441.
If you are from outside the UK, you can report adverse events to GSK/ViiV by selecting your region and market, here.