All PLHIV pictured and quoted in this website have been prescribed every-2-month VOCABRIA + REKAMBYS. They have given consent for the use of their images and words, and have received remuneration from ViiV Healthcare.
Indication: VOCABRIA injection is indicated, in combination with REKAMBYS injection, for the treatment of HIV-1 infection in adults who are virologically suppressed (HIV-1 RNA <50 copies/mL) on a stable antiretroviral regimen without present or past evidence of viral resistance to, and no prior virological failure with, agents of the NNRTI and INI class.[1,2]
INTRODUCING SOLAR
The first head-to-head switch study comparing every-2-month VOCABRIA + REKAMBYS to daily oral therapy[3]
SOLAR investigated the efficacy, safety and treatment experience of participants who were switched to every-2-month VOCABRIA + REKAMBYS (n=454) vs those who continued daily oral therapy with BIC/FTC/TAF (n=227).[3]
The solar study endpoint was met (mITT- E population): Every-2-month VOCABRIA +REKAMBYS was non-inferior to daily oral therapy with BIC/FTC/TAF at month 12 (1.1% with plasma HIV-1 RNA ≥50 copies /ml [n=5/447] vs 0.4 [n=1/223], respectively)[3]
Treatment planner
The Treatment Planner has been designed to make scheduling appointments for every-2-month VOCABRIA + REKAMBYS easier for you and your team.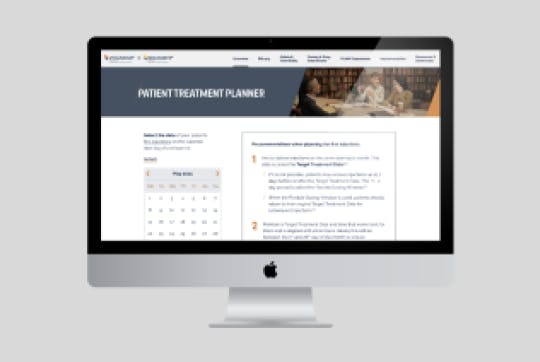 *Participants were suppressed for ≥6 months, virologic suppression defined as HIV-1 RNA <50 copies/mL.[3]
BIC/FTC/TAF=bictegravir/emtricitabine/tenofovir alafenamide; HIV=human immunodeficiency virus; HIV-1=human immunodeficiency virus type 1; INI=integrase inhibitor; NNRTI=non-nucleoside reverse transcriptase inhibitor; PLHIV=people living with HIV-1; RNA=ribonucleic acid.
REKAMBYS (rilpivirine long-acting injection), including the trademark, is owned by the Janssen Pharmaceutical Companies and used under licence by the ViiV Healthcare group of companies. All other trademarks are owned by the ViiV Healthcare group.
PM-GB-CBR-WCNT-230001 - August 2023
Adverse events should be reported. Reporting forms and information can be found at www.mhra.gov.uk/yellowcard or search for MHRA Yellowcard in the Google Play or Apple App store. Adverse events should also be reported to GlaxoSmithKline on 0800 221441.
If you are from outside the UK, you can report adverse events to GSK/ViiV by selecting your region and market, here.