What is an abacavir HSR?
Abacavir is associated with a risk for hypersensitivity reactions (HSR) characterised by fever and/or rash with other symptoms indicating multi-organ involvement.
An abacavir hypersensitivity reaction (HSR) is an idiosyncratic reaction.
The approximate reporting rate of abacavir HSR in clinical trials was:
1% in trials that excluded subjects testing positive for the HLA-B*5701 allele.1
5% in trials where HLA-B*5701 screening was not performed.2
Abacavir HSR is clinically well characterised:3
The signs and symptoms of Abacavir HSR have been identified either from clinical studies or post marketing surveillance. Those reported in at least 10% of patients with a hypersensitivity reaction are in bold text.
Almost all patients developing hypersensitivity reactions will have fever and/or rash (usually maculopapular or urticarial) as part of the syndrome, however reactions have occurred without rash or fever. Other key symptoms include gastrointestinal, respiratory or constitutional symptoms such as lethargy and malaise.
Symptoms related to this HSR worsen with continued therapy and can be life- threatening and in rare instance, have been fatal.
Diagnosis is complicated by:4
Variable presentation with nonspecific symptoms.
Concomitant use of other antiretroviral medications whose adverse event profiles overlap.
Time to onset
Symptoms usually appear within the first 6 weeks however, reactions can occur at any time during therapy.5
Data for time to onset was evaluated from clinical trials where HLA B*5701 screening was not performed.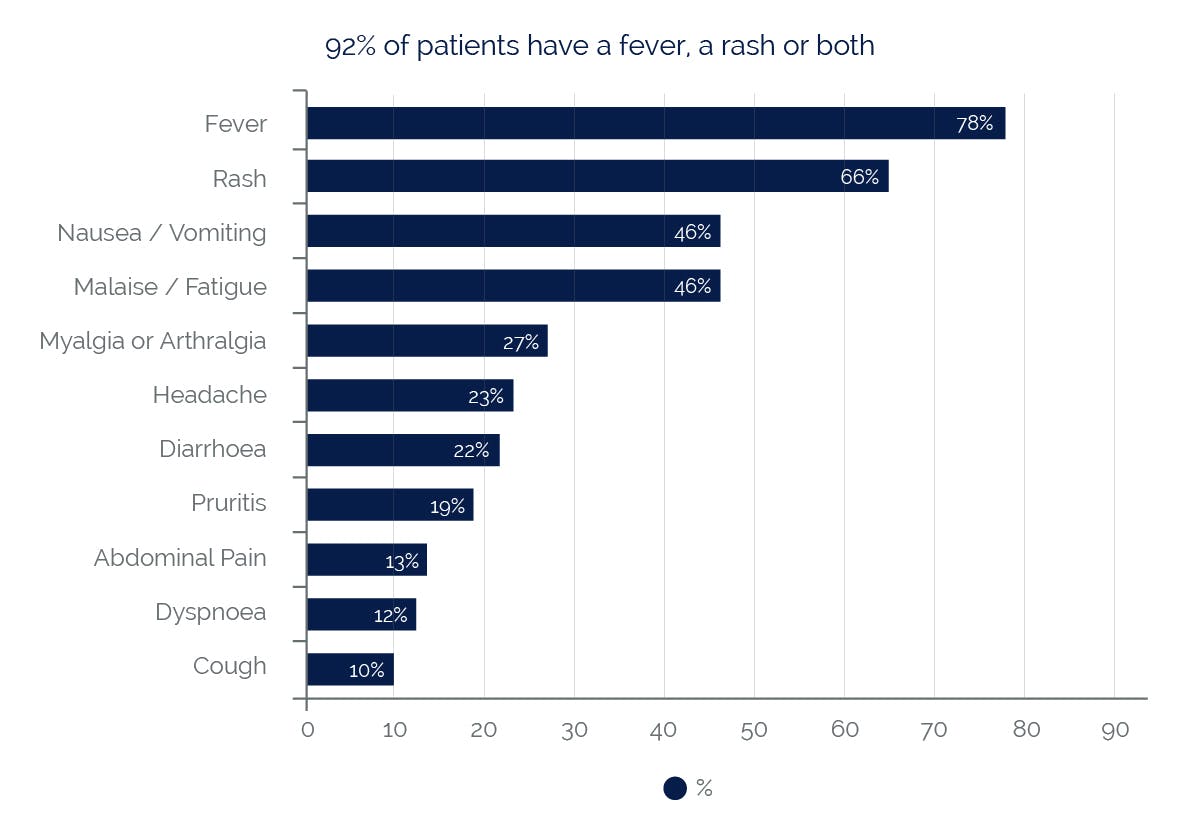 | Physical findings | Possible laboratory abnormalities |
| --- | --- |
| Lymphadenopathy | Haematological: lymphopaenia, leukopenia and thrombocytopaenia |
| Mucous membrane lesions (pharyngitis, conjunctivitis) | Chest x-ray normal or diffuse bilateral or lobular infiltrates |
| | Elevated liver enzymes (AST/ALT) |
| | Increased serum creatinine and creatinine phosphokinase |
Risk factors
Carriage of HLA-B*5701 is a known risk factor
The risk for abacavir HSR is higher for patients who test positive for the HLA-B*5701 allele. However, abacavir HSRs have been reported at a lower frequency in patients who do not carry this allele.
Patient's HLA-B*5701 status must always be documented prior to initiating therapy.
Abacavir should never be initiated in patients with a positive HLA-B*5701 status, nor in patients with a negative HLA-B*5701 status who had a suspected abacavir HSR on a previous abacavir-containing regimen.
The HLA-B*5701 allele is more common among patients who have a suspected hypersensitivity reaction to abacavir compared with those who do not.
No other pharmacogenetic markers have been found that identify patients at risk of abacavir hypersensitivity in all ethnic groups and in both sexes.
However, HLA-B*5701 is not always present in people who have a suspected abacavir HSR.
NP-GBL-HVX-WCNT-220048 November 2022
Adverse events should be reported. Reporting forms and information can be found at yellowcard.mhra.gov.uk or search for MHRA Yellowcard in the Google Play or Apple App store. Adverse events should also be reported to GlaxoSmithKline on 0800 221441.
If you are from outside the UK, you can report adverse events to GSK/ViiV by selecting your region and market, here.